AGED AND FAMILY VACATION TOUR TRIP (2 WEEKS)

This Project is open to the Aged and Families who want travel and visit tour sites in Ghana. In a brief description, Ghana, is a nation on West Africa's Gulf of Guinea known for diverse wildlife, old forts and private beaches. Coastal towns such as Elmina and Cape Coast has colonial buildings and castles-turned-museums that serve as testimonials to the slave trade. North of Cape Coast, vast Kakum National Park which has a treetop-canopy walkway over the rainforests.
This very project includes touring the following sites in Ghana:
1. The monkey sanctuary
2. The highest Water Fall in West Africa
3. The highest Mountain in West Africa
4. The Cape Coast Cattle
5. The Elmina Cattle
6. The Kakum National Park
7. The Mole National Park
Participation Fee for this project include
A person $ 800
A family of 2 $ 1400
A family of 3-5 $ 3000
Fee Detail
Orientation FREE
Food, Lodging and boarding 70%
Administration 10%
Community Development 20%
However we offer you the best of your vacation trip coupled with HCDP GHANA Class Standard Certificate as you enjoy your tour around the country Ghana.
MOVING ACROSS THE COUNTRY
Traveling through Ghana is fairly easy, due to the numerous taxis and "trotros" (mini buses or small trucks). The governmental STC buses are rather comfortable and connect the big cities and that makes it very easy to move from one place to the other.
THE REGION CAPITAL ACCRA
The region is the smallest of all the regions and a gateway to Ghana. The city of Accra has been the economic and commercial capital since 1877. The city also offers a wide range of entertainment with a variety of African and international restaurants, night clubs, and bars. The region has a dense population and is the traditional home of the Gadangbe tribe.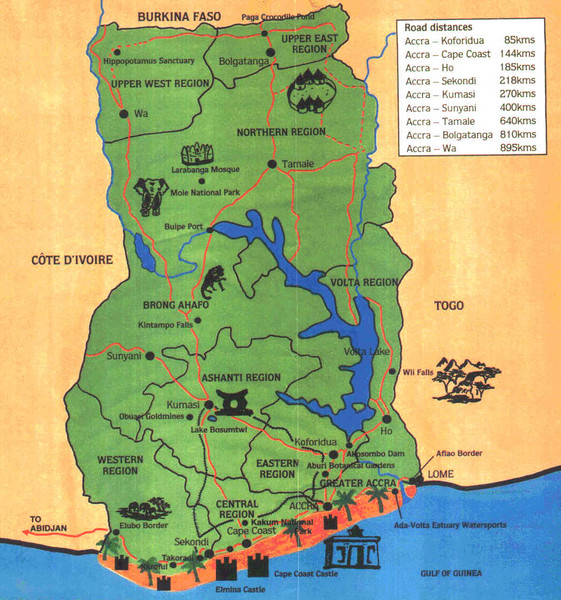 GHANA'S FOOD AND  DRINKS
The foods in Ghana are mostly "soups", which are really sauces or stews, made of groundnuts, tomatoes, onions, egg-plants, and fish or meat. They are eaten with fufu (mashed cassava, plantain or yam), kenkey or banku (sour fermented corn wrapped in plantain leaves). The main fruits are: pineapple, papaya, banana and orange.
There are a few good breweries in Ghana, of which Star-beer is one of the best. Traditional drinks include: palm wine, pito (millet beer) and apeteshi (distilled palmwine)