NATIONAL PARK
BOABENG-FIEMA MONKEY SANCTUARY This small sanctuary of 4.4km2 was established in 1974 to help the local communities protect the resident black and white Colobus and Mona monkeys which are important to their cultural belief.
The monkeys are habituated to humans and large groups are seen easily in the forest and within Boabeng village itself. The butterfly fauna is unusually rich.
BUI NATIONAL PARK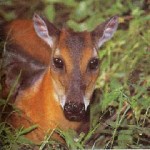 This 1,821km2 park, gazetted in 1971, covers the catchment of the Black Volta River. The vegetation is typical Savannah woodland with gallery forest along river courses. It is particularly notable for the resident hippo population in the Black Volta River though a number of primates and antelope species are present along with a great variety of birds
 
KAKUM NATIONAL PARK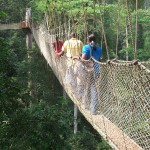 Kakum National Park protects plant and animal treasures of the African tropical forest and is a haven for the casual visitor, birdwatcher, amateur botanist and ecotourist alike. Thirty kilometers north of Cape Coast via a paved road, you will find rare plant species in a spectacular environment where some trees reach heights of over fifty meters. After viewing the exhibits at the Visitor's Center, the drama of the jungle comes alive as park guides provide insight into this complex ecosystem. You will learn about traditional forest product uses for medicine
and daily village life. The flora at ground level may be familiar to you as houseplants, and be sure to watch for one of the estimated 550 butterfly species. A beautiful butterfly, new to science, was discovered in Kakum in 1993, and has been appropriately named Diopetes kakumiú!
 
H.MOLE NATIONAL PARK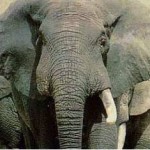 Mole Park, the largest eco-tourism site in the country, is located 170 kilometres west of Tamale in the West Gonja District. It is home to 93 mammalian species, 33 reptiles, nine amphibians and an estimated 300 birds species.
The mammals include some 600 elephants, 2,000 roam antelopes, 3,000 hartebeests, 4,000 waterbucks, 5,000 buffalo and some 6,000 warthogs. Uncounted lions, leopards, hyenas and various primates can also be seen in Mole.
A total of 600km of game protection and viewing roads have been developed within the Park.
LABARANGA MOSQUE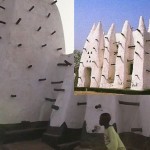 Labaragaga is situated 10 miles (16 km) west of Damongo, N/R and only about 5 miles to the Mole National Park (Dept of Game and wild life). In case you don know where Damongo is. It is about 72 miles west of Tamale. It is a common believe that this mosque is the oldest mosque in Ghana. Even the present generation think it was built my God. The villagers built another mosque which is similar to the one on the stamp where they go to pray or worship daily. The so-called 'God built mosque' also houses a holy koran which also is believed to descent from heaven. This holy book is read once in a year or so during a special ceremony. Many prominent moslems from Ivory Coast where the people of Larabanga claimed to have migrated from visit the village for such a function. It is a common believe that some coup makers in Ghan even visited the village for some blessings before they approached GBC. At least I knew Carlos Giwa and another soldier was Damongo were there before and after the attempted coup. The same mosque was on one of our bills. I guess the old 5 cedi note
This same village has a stone which could not be moved away during the time the Wa-Sawla-Tamale road was constructed. That is each time it was moved, it kept coming back so they had to leave it and divert the road somehow. This portion of the road is popularly known as Larabanga SS now.
Here are some of the answers to some of your questions
First, the lrabanga Mosque. Larabanga is a small town in Western Gonja in Northern Region. It is a predominantly moslem town and had become famous because of the mosque which was built in the mode of buildings in the former Western Sudanese Empires. Boti Falls is in Eastern Region while Shama is in western region.